19th BATTALION AIF.
 Private: 2785 Charles Cameron KNIGHT.
---
Born: 7th April 1898. Blaney, New South Wales, Australia. Birth Cert:15398/1889.
Married: 12th October 1929. Parramatta, New South Wales, Australia. Marriage Cert:18367/1929.
Wife: Irene Knight. nee: Davis. (18..-1986)
Died: 9th December 1955 Chatswood, New South Wales, Australia. Death Cert:28132/1955.
---
Father:Charles Knight Junior. (18..-31/05/1946)
Mother: Jessie Knight. nee: Cameron. (1873-02/11/1944) Hawksbury District Hospital.
---
INFORMATION
Charles Cameron Knight enlisted with the 6th Reinforcements, 19th Battalion AIF on the 21st of July 1915 at the age of 16 years as he put his age up to 18 years to enlist. He proceeded overseas to join the British Expeditionary Force at Alexandria on the 2nd June 1916 and disembarked at Arscilles on board the "Kinfauns Castle" on the 8th June and was taken on in strength with the 4th Battalion at Tel-el-Kabir.
Postcard from Charlie to his parents Charles and Jessie Knight whist at the Suez Canal. (Riverstone Historical Society)
Charles was

Wounded in Action

on the 6th August 1916 having a

Gun Shot Wound Leg and Thigh

 and was evacuated to the 2nd Casualty clearing Station. He was later transferred to Boulogne where he embarked for England where he was admitted to the Northampton War Hospital on the 14th August for surgery for a

Severe Gun Shot Wound to his Right Knee and Thigh.

"A Nurse at the Hospital said "he was too young to have his leg amputated"

to the Surgeon who saved Charlies leg but he had to were a Calliper on his right leg for the rest of his life. Charlie's condition was listed as "Seriously Ill" and he remain in hospital until he was discharged and transferred to the 1st Australian Auxiliary Hospital at Harefield on the 30th June 1917 to prepare for his return to Australia. Charlie embarked from England on the 14th September 1917 on board HMAT "Kanowna" for Australia and was discharged

Medically Unfit

on the 12th of February 1918.
Pre Active Service and post World War 1. Charlie Knight after he returned from England.
Unveiling of the Riverstone War Memorial November 1919
Rouse Hill Times. 22nd April 2015.
Back to Riverstone Parade 1934. Float Chas C Knight.
Charlie's 14/15 Star:19222, British War Medal:22279, Victory Medal:22054, Wound Badge, and RAS Badge were given to his Grandson David John Harrower JP by Irene Francis Knight "Charlie's Daughter" in the early 1970's.
---
 AUSTRALIAN VOLUNTEER DEFENCE CORPS WW2.
 Captain: Charles Cameron KNIGHT.
Commanding Officer (Administration) 19th Volunteer Defence Corps
---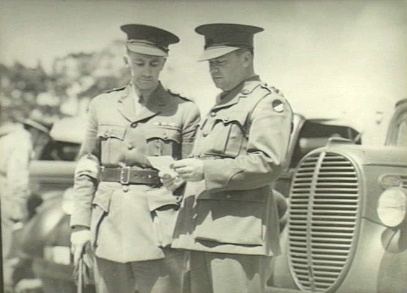 1940. Left.
1940. Second Right.
1940.
1940. Parade.
Family Information
Charles was a single 18 year old Railway Porter from Riverstone N.S.W. upon enlistment. After the war Charlie returned to Riverstone. His Parents, Charles and Jessie Cameron were married on the 4th July 1897 at St Pauls Church Sydney. He moved back to Riverstone and lived at 8 Railway Terrace on the corner of Castlereigh Street, Riverstone. N.S.W. Charlie was an Alderman with Blacktown Shire Council from 1937 to 1944 He was also the Chief of the Riverstone Bush Fire Brigade, a Justice of the Peace and served on the Hawkesbury Hospital Committee. He was also a local Store Keeper, their telephone number was Riverstone 7. In 1949 moved the family to 38 Cassier Street, Dee Why. Then to 8 Avon Road Dee Why. Charlie and Irene moved to Pacific Parade Dee Why and after Charlie died. In 1953 Irene moved to 112 Pacific Parade. Charlies ashes were scattered at the Northern Suburbes Cremetorium. There daughter Dorothy Knight married to Kenneth George Harrower and moved to 56 Howard Avenue, Dee Why. New South Wales.
SCHOFIELDS Defeated ROOTY HILL CRICKET CLUB. November 1920.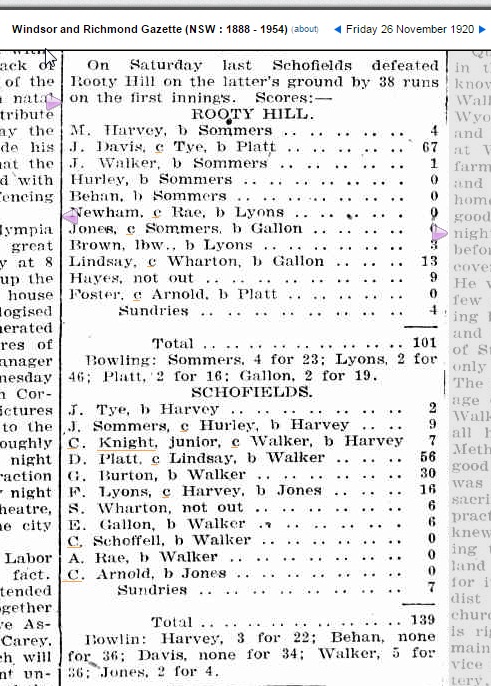 Friday 24th August 1923.

Friday 22nd August 1924.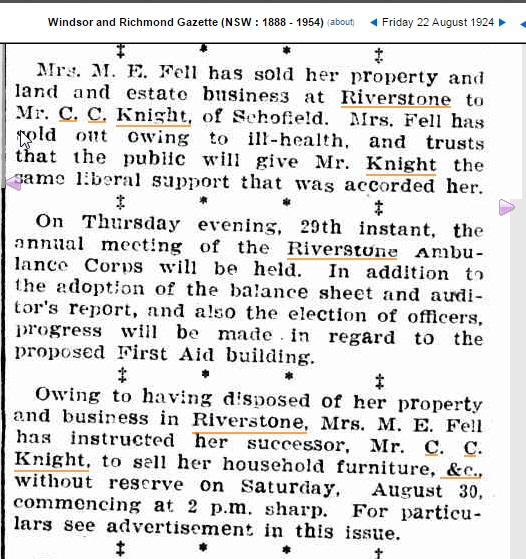 Friday 5th September 1924.
27th November 1925.
29th January 1926.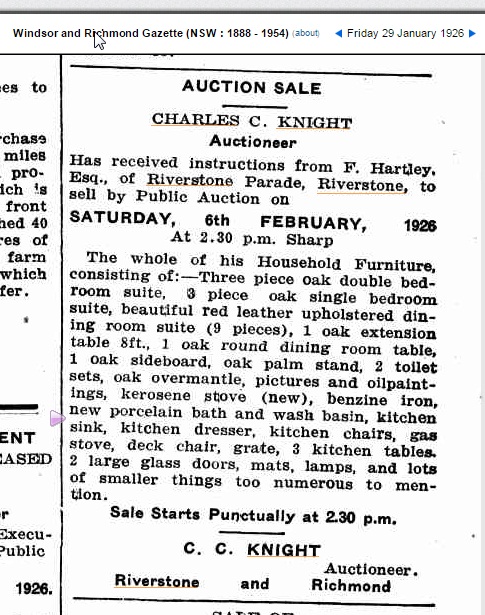 25th October 1929.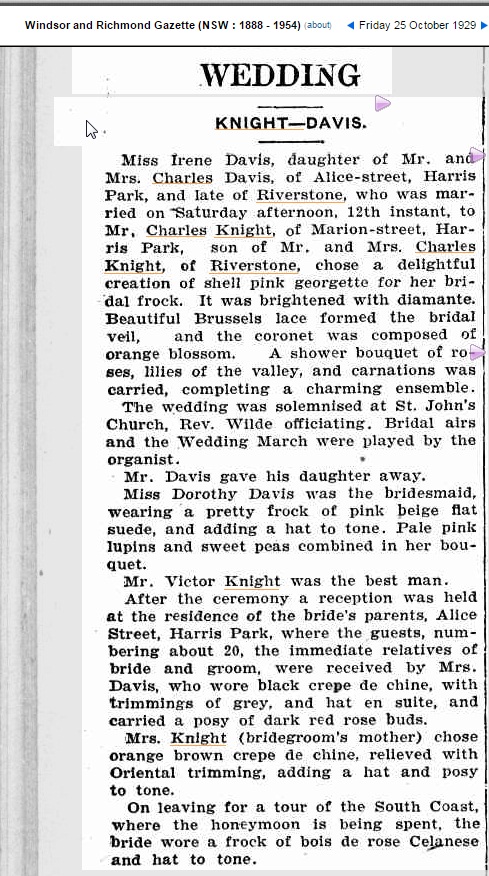 29th November 1929.
14th July 1933.
21st July 1933.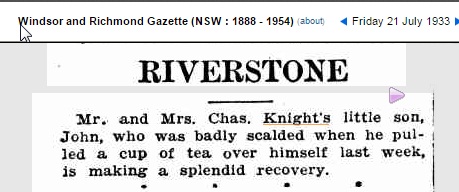 16th February 1934.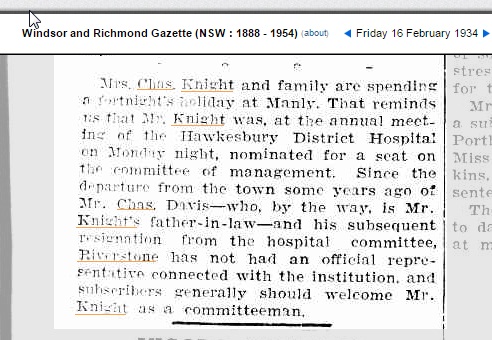 29th June 1934.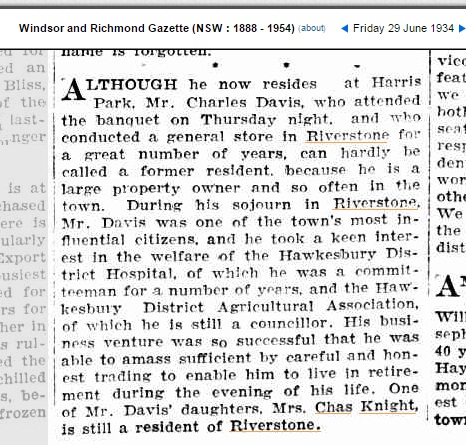 27th July 1934.
1st March 1935.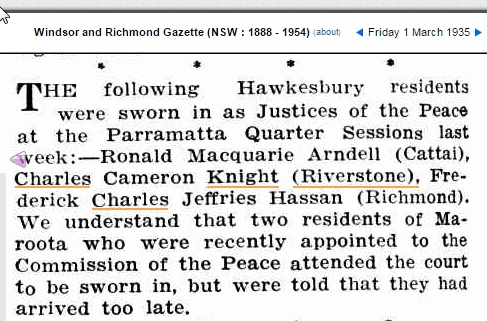 4th October 1935.
2nd October 1936.

19th November 1937.
4th December 1937.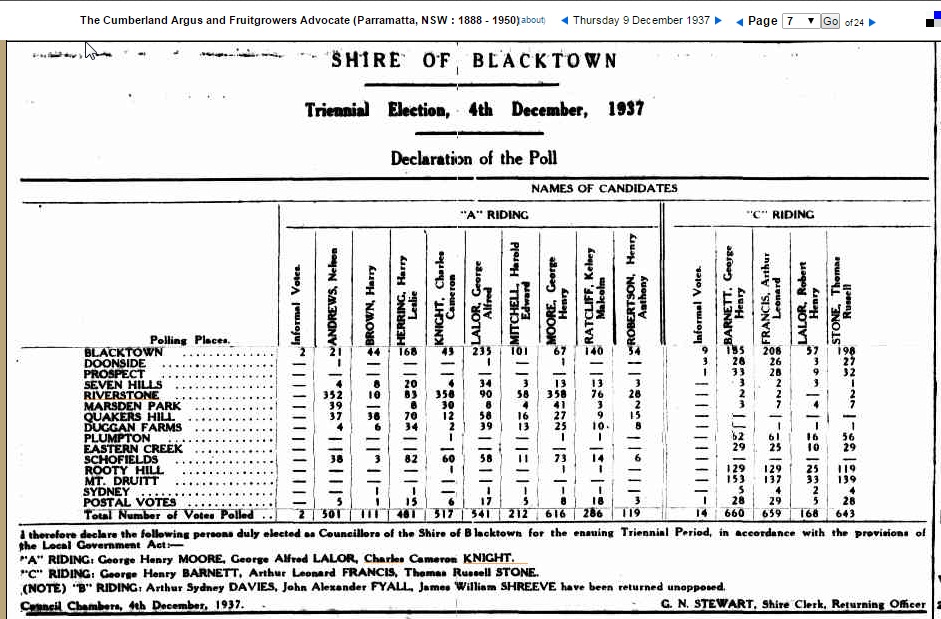 14th January 1938.
13th January 1939.
20th January 1939.

28th June 1940.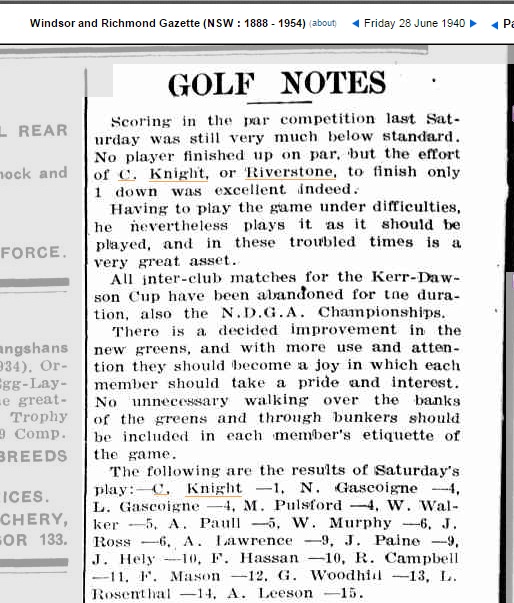 26th July 1940.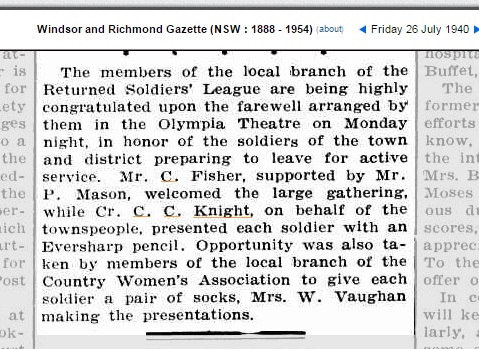 1st August 1941.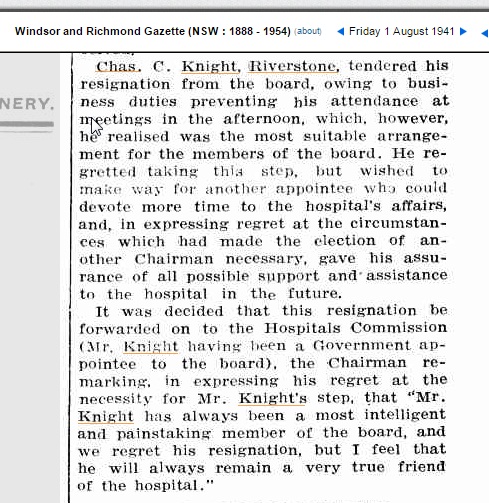 2nd June 1943.
8th November 1944.
5th June 1946.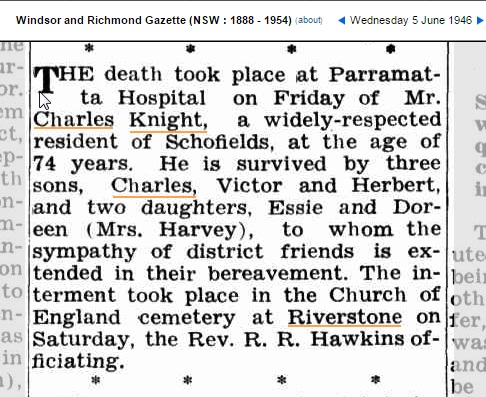 4th September 1946.
15th December 1948.
25th May 1949.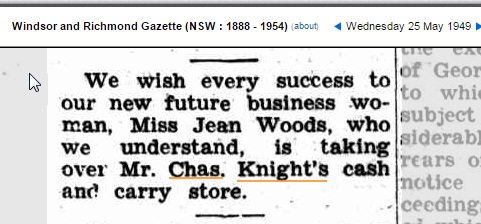 17th August 1949.
7th December 1949.
21st March 1951.
4th February 1953.
Irene Knight lit a fire in the 44 gallon drum in the back yard in the 1950's and burnt all of Charlies letters and war records telling her children John, Dorothy and Joan that "there were a lot of letters to an English Nurse and she didn't want you kid's to get the wrong idea?". The only thing's Irene kept were Charlies war medals.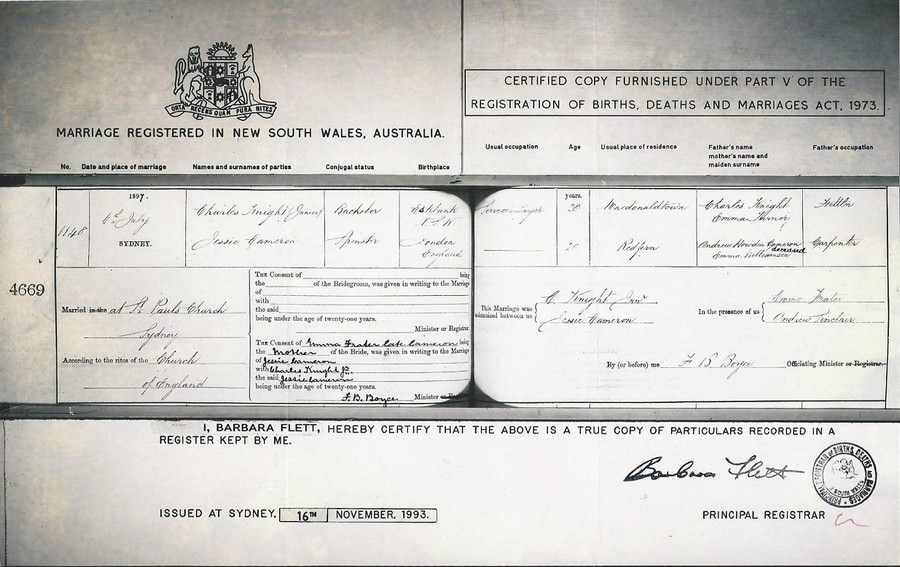 Marriage Certificate of Charles Knight and Jessie Cameron.
Irene Knight nee: Davis as a young girl sitting on a pony. Her mother Jessie with the large hat and black dress. (circa 1910)
Charles Knight Snr and Jessie Knight nee: Cameron.
Charles Knight Snr.
(Photos: Riverstone Historical Society)
Military Records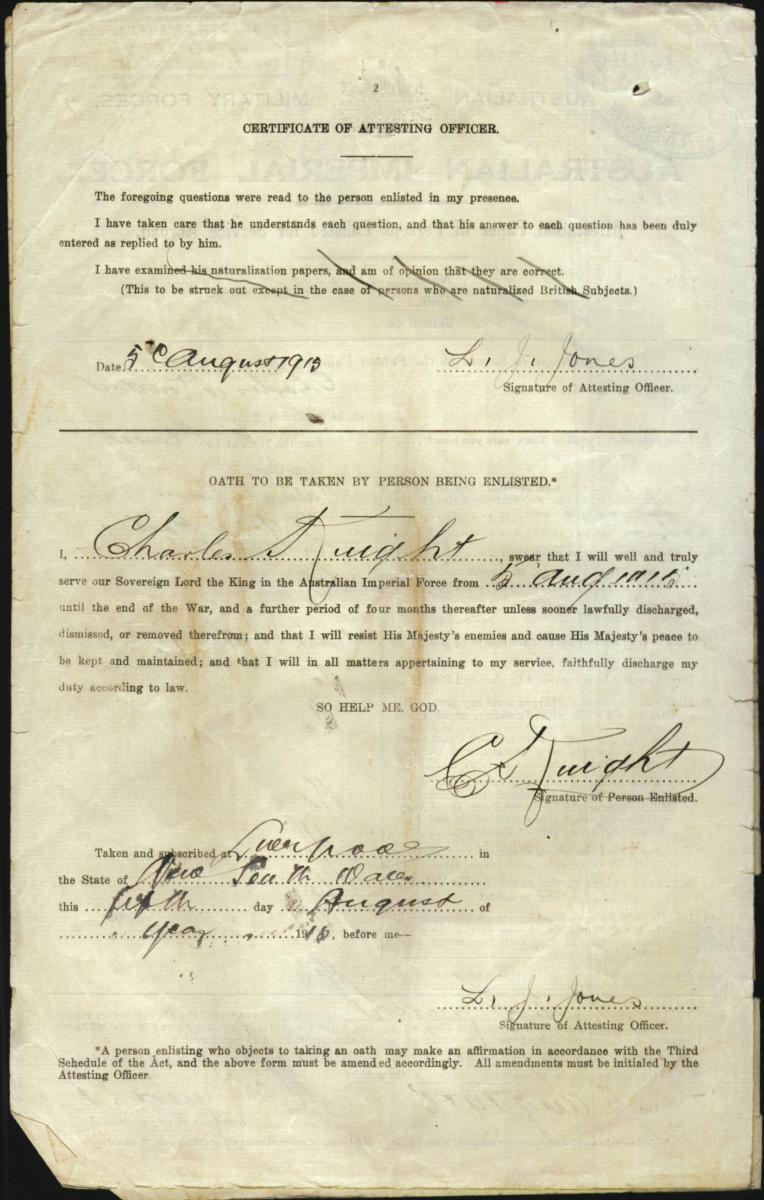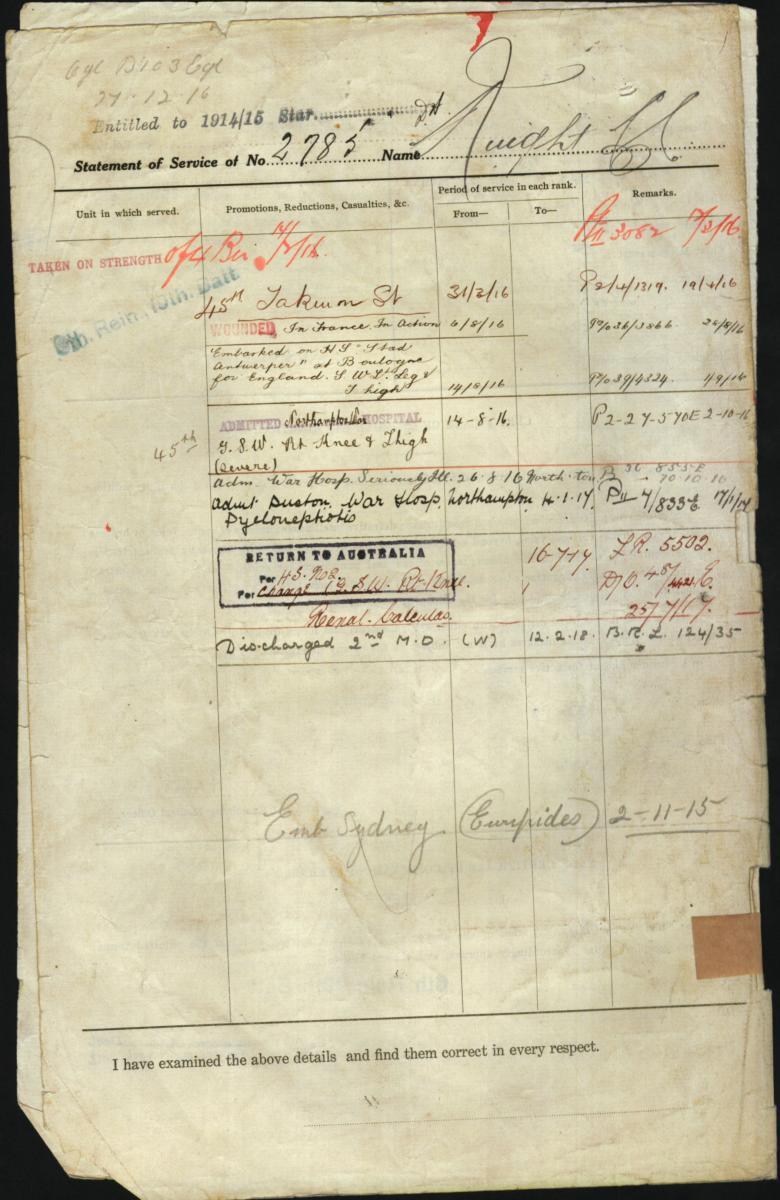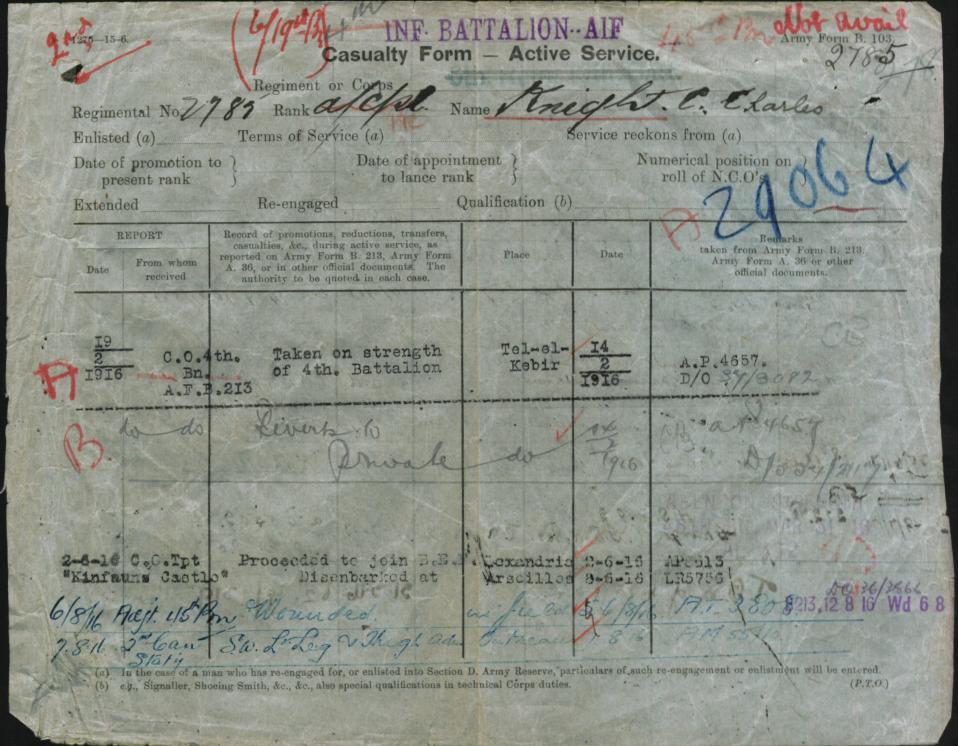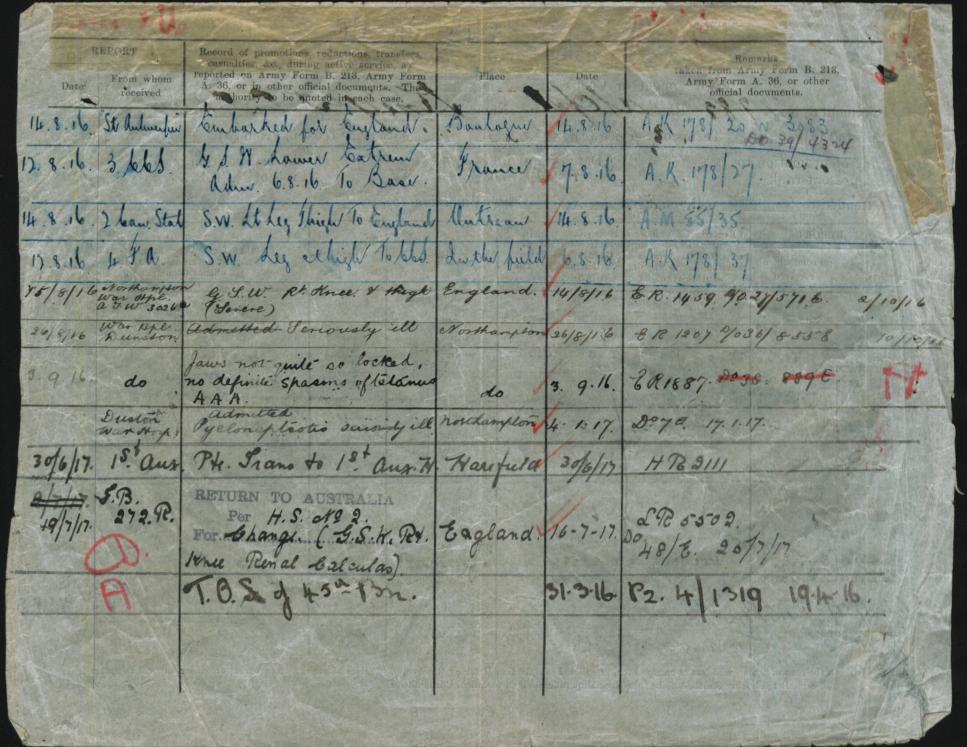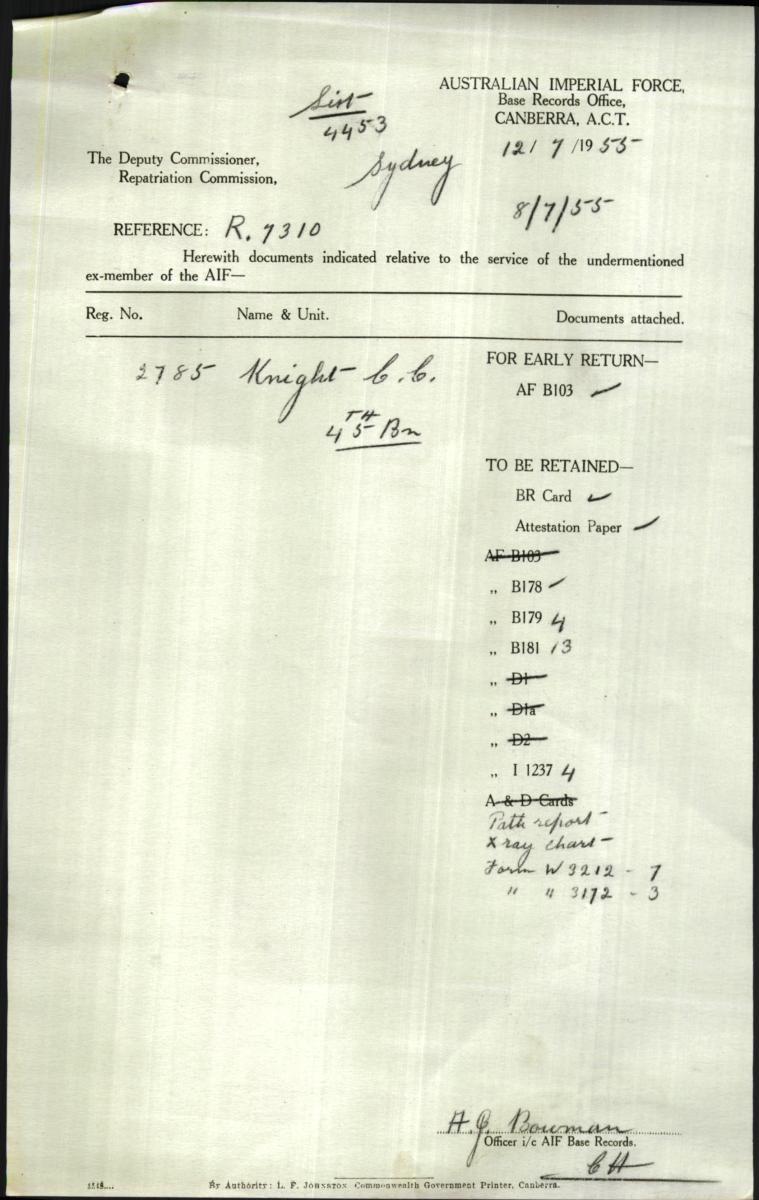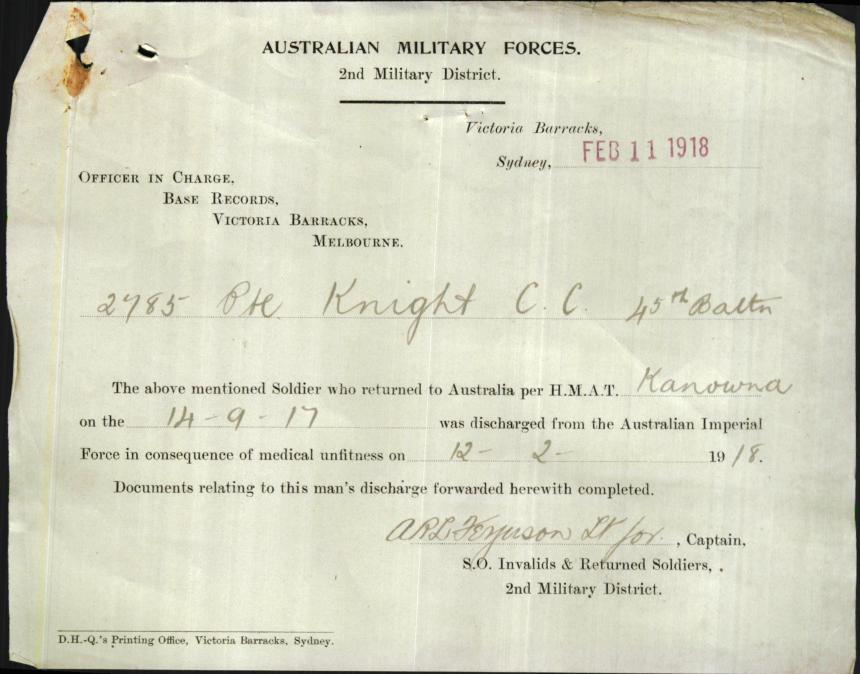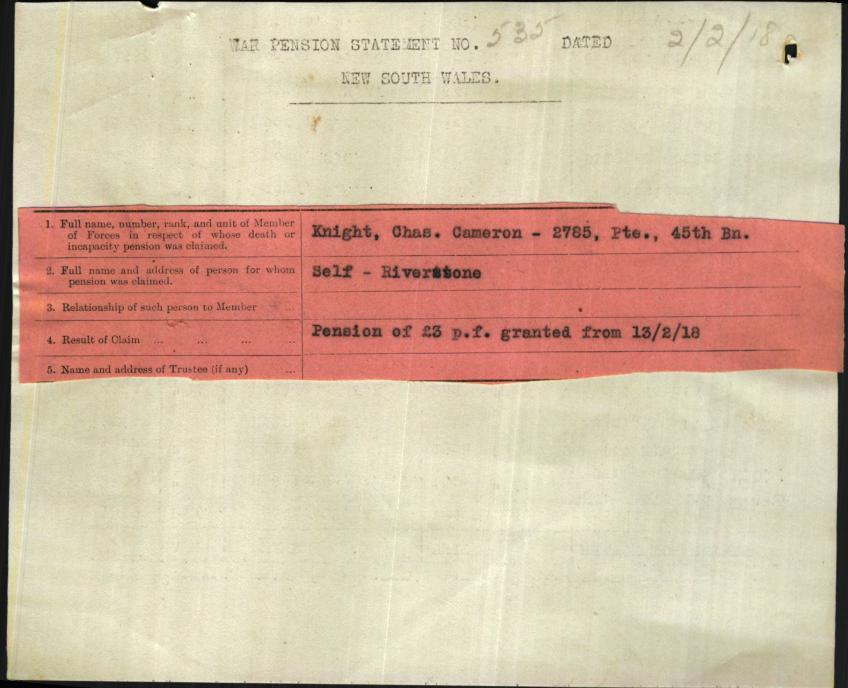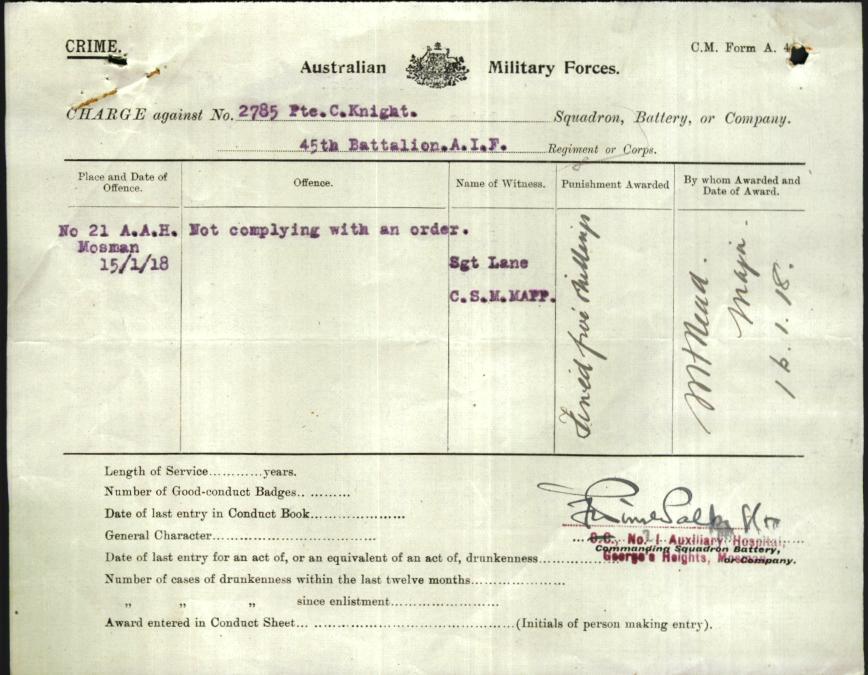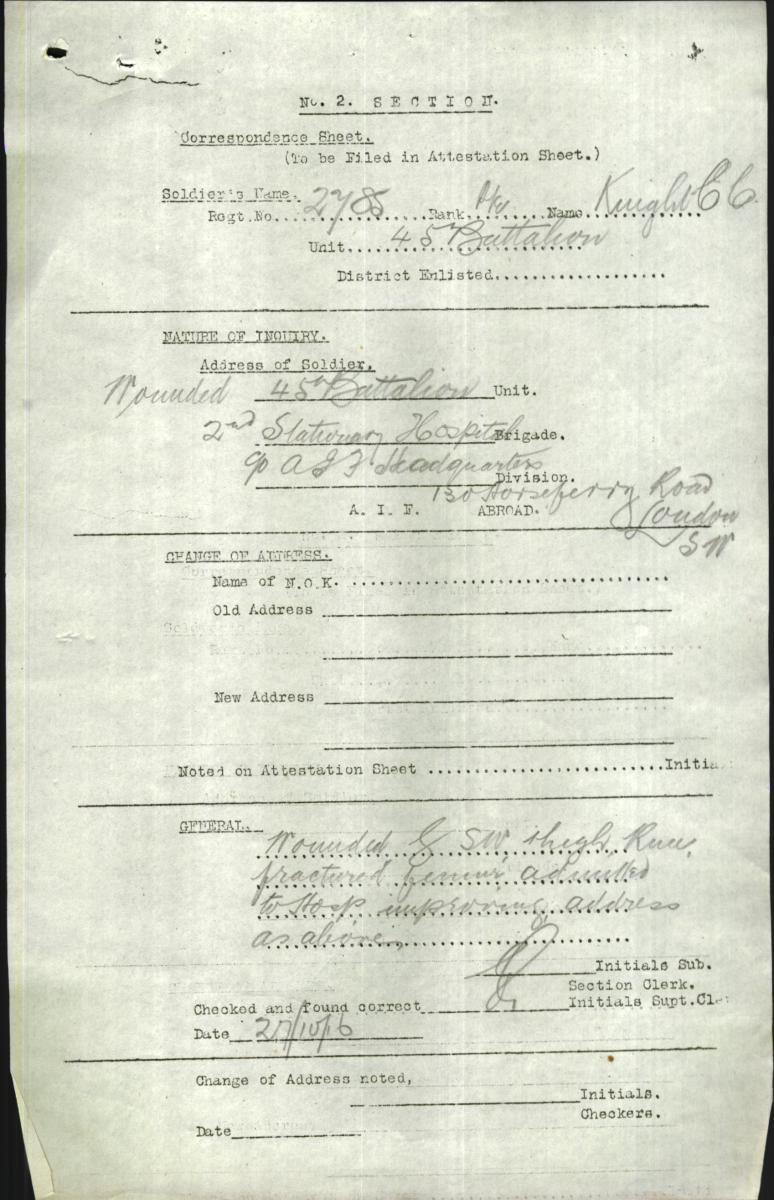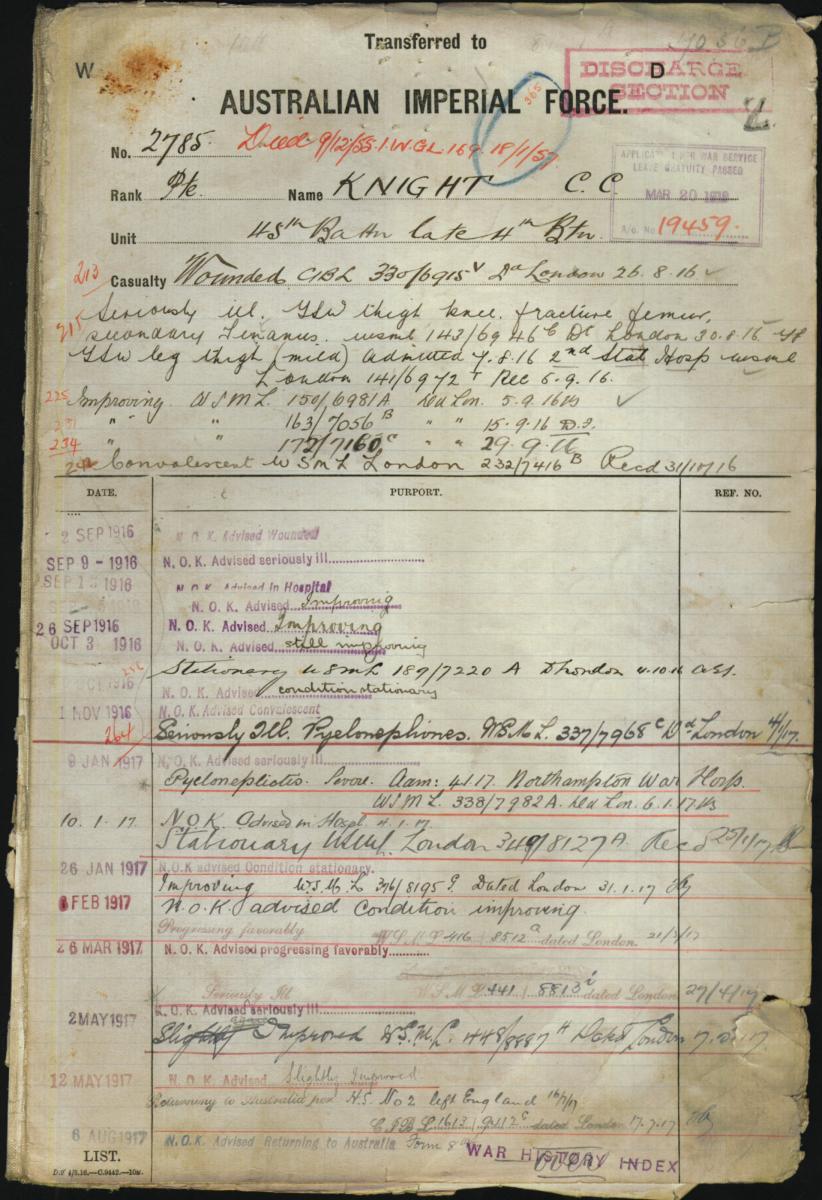 © Commonwealth of Australia
(National Archives of Australia)
Under Construction: 24/11/2007-10/05/2018.